MIB Class of 2015のSameer Singhさん インタビュー
2017-09-11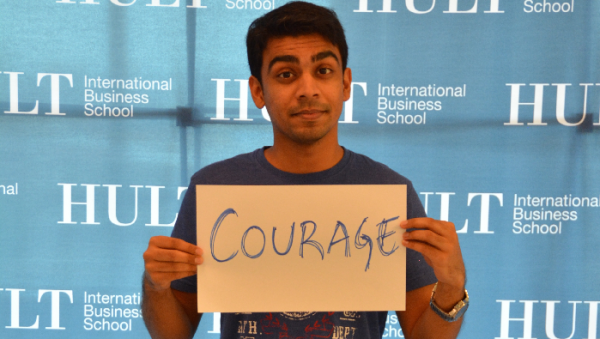 Hultのグローバルなネットワークは、卒業してからも続いていきます。
Master of International Business Class of 2015のSameer Singhさんは、ボストンキャンパスで学び、新たなキャリアの地米テキサス州のオースティンで大手会計事務所Deloitteに勤務しています。当初は、オースティンには知り合いが全くおらずボストンが恋しいと思うこともあり、Sammeerさんは、 Alumni Chapterと呼ぶ卒業生ネットワークをオースティンで始めました。
現在はオースティエリア在住の15人の卒業生ネットワークとなりました。
そんなSameer Singhさんに、Deloitteでの仕事内容をインタビューすると同時に、Hultでの学生生活を振り返ってもらいました。
Sammeerのインタビュー(原文)

(Hult)Why did you form the Austin Chapter?
When I first moved to Austin in 2015 to start a new job with Deloitte, I knew nobody and missed Boston—my Hult home campus city and 'happy place'. Hult has alumni in every major city in the world. So I thought: 'Why not try to get all the alumni in this city together?' This was before the days of "Hult Connect" [the alumni portal that links up alum in different geographies], so I got in touch with the Hult Alumni team to get local contacts, and started googling and reaching out to fellow Hult alum in the Austin area. To be in touch with people with the same mindset and experiences as mine made me feel at home again.
Now we have 15 Hultians actively involved in the chapter, and we're just getting started. Even my roommate is a Hult alum—an MIB grad from Venezuela, working for Dell.

(Hult)So what have you got in store for the Chapter?
I am currently in the process of organizing an event with two female colleagues of mine from Deloitte—a Partner and a Principal. I'd like them to run a talk next month about the challenges they have faced, how they have overcome them, and how we, as the global generation, can work better together and help each other.

(Hult)Could you tell us a bit more about your job at Deloitte?
I joined Deloitte as a Business Technology Analyst and within a year was promoted to my current position as Quality Assurance Consultant.
We run a "Health and Human Services" project for the Texas state government. The project is called "TIERS" and enables people to apply for and receive social benefits such as Medicaid and Food Stamps. Deloitte is responsible for implementing and maintaining the project. Last year, we completely redesigned the online self-service portal (yourtexasbenefits.com) using agile scrum methodology.
This has never been done before and Deloitte has been nominated for awards for it. After this, I also worked as a "Subject Matter Expert"—the youngest within my department. I am aware of the perception of management consultants as being purely business-driven. But Deloitte is a very transparent and straightforward company dedicated to leadership extending beyond its clients and commercial marketplace. It is committed to ethical practices and has a well-established focus on personal integrity and public trust.
At the end of the day, when you realise that you are actually helping put food on the table of people in need out there, it makes me feel really proud about the job that I am doing.

(Hult)Sounds like you are doing a fantastic job! How do you think your time at Hult prepared you for your career?
While classroom knowledge allowed me to better understand business theory, experience with different teams prepared me well for a diverse workplace at Deloitte. You have to learn to be super-efficient to get through the intense one-year MIB program at Hult, and it prepared me for a critical phase of the project that I worked on last year.
One particular lesson from Hult—to think from the perspective of different stakeholders—made me understand people better, perform better, and become an official Subject Matter Expert in no time.

(Hult)What made you decide to do an MIB degree?
It was not an easy decision, to be honest. I did my bachelor degree in technology in India, my home country, and after I graduated I started working for a small startup as a Business Systems Analyst. I felt lucky to work with many international clients. I really enjoyed it, but it made me realize that I didn't know enough about international business and I needed to improve my skillset. I wanted first-hand experience of being in an environment of diverse cultures and backgrounds.
I come from a regular Indian family, and education abroad sounded like a far-fetched dream. But education is so highly regarded in India that your family can't say no to it. My father had already taken out loans to financially support my sisters' education, and I didn't want him to over-commit. I reflected deeply and ultimately decided that I wanted to study overseas and have this experience. It took me two months to pluck up the courage to have this conversation with my parents, planning out answers and scenarios to all the questions they might ask. I was clear that I wanted to support myself and be a self-made person. They eventually came around to the idea and said they would support me in whatever way they could. So I took my GMAT and started looking for schools.
As soon as I found Hult and started talking to the Enrollment team, it became immediately clear to me that Hult was the school for me and could offer me everything I wanted.

(Hult) So you applied to Hult! What happened next?
Hult was the only school I applied to! Luckily I got accepted and I received a scholarship. It wasn't easy arranging finances, especially as I already owed the bank for my bachelors.
When I came to Hult I had enough money to pay for my tuition fee and to support myself for just 8 out of 12 months. So I decided that I would room share to save on rent and made many other compromises. There were times when it was really difficult, but I told myself that many other people in my position would not be able to have these experiences at all. I reminded myself how lucky I was. I made so many amazing friends and everyone was so supportive. I never felt alone when I was at Hult.

(Hult)What is your favorite Hult memory?
It is so hard to pick just one!
I would probably have to say the Diwali celebration. I had been living away from home for a long time by this point, and never missed a Diwali at home until my year at Hult. What began as a sad day with feelings of homesickness turned out to be a wonderful day as we celebrated on campus with people from over 150 countries—something I may never get a chance to experience in my lifetime again.

(Hult)How would you say Hult changed you as a person?
The change began from day one. Experiencing diversity at all waking moments makes you a different and a better person. Hult made me evolve into a better version of myself. In particular, an Authentic Leadership class gave me a lot to think about in terms of who I am and who I want to be, and not just who I should be.
All the courses and professors made a positive impact, however this class in Authentic Leadership made me reflect on a lot of personal and professional aspects from a completely different angle. It made me realize the importance of identifying your roots, your strengths, and most importantly your weaknesses. Professor Kerrick helped me to learn the strength of 'courage' and 'honesty' in trying times, and how being an authentic leader is a lifetime journey instead of a business course.

(Hult)Thanks Sam, it's been great talking to you. You are an inspiration and we're delighted to see you continuing on your Hult journey. We look forward to seeing what you accomplish next.
無料相談会でお待ちしています。
参加費:無料
会場:オンライン

・遠方の方はオンライン(スカイプor Zoom)での相談会も可能です。ご希望の日時をお知らせください。
・バイアス無くご相談を承ります。
・無理な勧誘などは一切ございません。
【無料メルマガ】MBA出願や留学生活のノウハウを無料で公開
第1弾:MBA出願メルマガ(全7回)、第2弾:留学生活編(全7回)
無料登録はこちらから
【無料診断】あなたはMBAに向いている?MBA診断
あなたのポテンシャルを知りましょう。
無料MBA診断はこちらから
【無料動画】MBA出願対策無料動画講義
MBA出願対策の無料動画で、出願のノウハウを掴みましょう。
無料視聴はこちらから
【MBA Loungeラジオ配信中】MBAからキャリアまでのノウハウ集
勉強や作業をしながらでもお聞きください!
MBA Loungeラジオはこちらから
【留学準備とビジネスの会員制ゼミナール】大学院留学準備を仲間と一緒に!
仲間がいるから頑張れるんです。無料説明会開催中
詳細はこちらから
【無料語彙力チェック】スマホで学べる。TOEFL語彙無料クイズ全10回配
全10回配信。TOEFLスコアアップに悩んでいる方全員が有効に活用できる語彙力アップツールです。
無料登録はこちらから